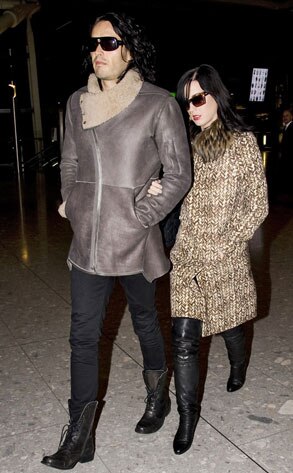 Katy Perry and Russell Brand have returned to the scene of the crime.
The betrothed couple touched down at Sanganer Airpot in Jaipur, India, earlier today, less than 11 months after Brand popped the question while on vacation there. Brand's future in-laws, Keith and Mary Hudson, were with them.
Of course plenty of paparazzi were there, too, prompting Perry to burrow her face—accessorized with a gold Indian bridal nose ring—in her fiancé's shoulder as they made their way out of the airport. But while camera flashes are inevitable wherever they go, the bride-to-be tweeted a message last night encouraging everyone to respect their privacy.
"TWIT BREAK: Greatest gift u can give us is respect & ♥ during this private X," she wrote. "No use wasting ur X w/ STOLEN or FALSE info. Thnku for this."
Word is the Perry-Brand nuptials will take place Saturday at the Rambagh Palace resort. Perry pal Rihanna and her baseball-playing beau Matt Kemp are on the guest list, along with about 85 others.
Read more:
http://www.eonline.com/uberblog/b206705_katy_perry_russell_brand_land_in_india.html#ixzz130UaUoZ9