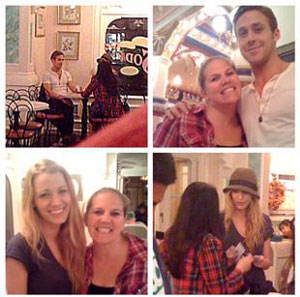 Ryan Gosling and Blake Lively were spotted hanging late into the night recently at Disneyland—a place where the cute and charming Gosling has wooed girls in the past (Kat Dennings).
A fan spied B and Ry in the Gibson Girl Ice Cream Parlor around 12:30 a.m. Good friends just hanging or something more?
TWITTER: Follow Ted
Apparently Blake and Ryan wouldn't pose in a picture together, but were totally cool taking pics with the cute fan separately. The encounter reads that Lively was really "sweet" and Gosling a "little sarcastic," but both celebs were totally cool.
This sighting of course comes on the heels of last week's semi-odd reveal that Ryan's ex, Rachel McAdams, is seriously dating Michael Sheen. Hmmm...
Naturally, all you Gossip Girl fans are thinking: What about Penn Badgley?
Last we heard, the couple was still tight despite some distance—Penn was promoting Easy A in L.A. and Blake, The Town on the East Coast—however the two haven't been spotted together off the G.G. set in a while.
For what it's worth, we've been told by a source close to Penn and Blake that they have cooled things off secretly in the past without the media knowing and quickly gotten back together.
We've put in calls to Blake's rep (who also reps Penn) but have yet to hear back.
Would you all approve of Ryan and Blake together? Boyfriend's been working out hard lately, if it's not for a role, it's gotta be for a hot girl!
Read more:
http://www.eonline.com/uberblog/the_awful_truth/b205057_who_knew_ryan_gosling_blake_lively_were.html#ixzz13alD7dVN